Grow As You Go Chair™
With over 131 million births each year, it is no surprise that parents around the world need to obtain a variety of products for their children.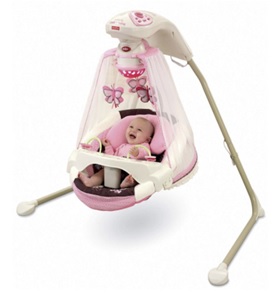 There are a wide range of products that are available on a typical baby registry like a crib, a stroller, clothes, toys, diapers, and a variety of positioning devices. There are dozens of different types of chairs on the market for babies, but many of them do not provide the proper head and neck support a growing baby needs. Improper positioning with prolonged pressure to the back of the baby's head has caused 25% to  40% of babies to have some degree of positional head flattening (plagiocephaly). Doctors agree that we need to prevent this condition, optimize infant development, and reduce cosmetic abnormalities in children.
The Grow As You Go Chair™ is the needed solution to these common problems. Its design helps reduce the likelihood of babies developing positional head flattening, and it minimizes potential hair loss. The Grow As You Go Chair™ offers optimal head and neck alignment with pressure relief for the back of the head. This chair will replace most chairs infants need during birth to 2 years of age as they go about their daily activities and continue to rapidly grow. Consumers will save a tremendous amount of money by acquiring this product. This is due to the base being able to pivot the chair up and down, as well as recline, while also having an adjustable backrest that is removable to adapt to the infant's height as they grow. The Grow As You Go Chair™ can be mounted on a variety of bases, converting to a highchair or swing.
PRODUCT FEATURES & BENEFITS
Special features
Provides optimal head and neck alignment
Offers pressure relief to the back of the head
Reduces the likelihood of positional head flattening and hair loss
Base pivots up and down to maintain baby's 90 degree position and reclines at various angles for comfort
Able to attach to a variety of surfaces including a kitchen chair, highchair base, and swing
Contains a removable tray to use for food and drinks
Accommodates multiple attachments designed by Dr. Sonja Burmeister, pediatric specialist, that optimize baby's cognitive, sensory, and motor development
Multiuse for feeding, playing, and resting
Adjustable backrest to fit infants through 2 year-olds
Backrest is removable to convert to a booster seat
Saves consumers money by eliminating the need to buy multiple positioning devices
Cost efficient to make and sell to consumers
Researched and tested to ensure the baby's safety
High quality, durable materials
Simple manufacturing process
PRODUCT DETAILS
The Grow As You Go Chair™ is an infant seat assembly that greatly reduces the incidences of contact sores, badling, and cranial
deformations on an infant's head. It is designed to meet the positioning needs for every child from infant to two years of age. This product includes a seating unit with an adjustable backrest that can be taken off if needed. This unique design helps promote better anatomic alignment for head and neck during feeding. The backrest includes a closed cell/antimicrobial foam area to minimize the pressure on the infant's head while residing in the chair. The product can also be made into a bouncy seat by interconnecting the backrest to the seating unit using metal springs. The base of the chair pivots up and down with a quick adjustment to maintain baby's 90 degree position at any angle needed whether it be for taking a bottle or eating solid foods. The product also includes a removable tray to use for food, drinks, toys, etc. There are a variety of chair cover designs to choose from that are breathable, stain resistant, wipeable, and washable.
Since the back to sleep program was implemented in the 1990's by the American Academy of  Pediatrics, doctors have seen a 5 fold increase in positional head flattening on infants' heads (plagiocephaly) due to prolonged time infants spend on their backs in cribs and in positioning devices. Researchers in Europe have linked plagiocephaly with cognitive and language delays. The medical community often feels this condition corrects itself but there is no formal screening for positional flattening and limited progress monitoring when it is diagnosed. When treated with increased tummy time, repositioning, physical therapy, or costly helmets, only 77% of infants achieve near normal outcomes. The Grow As You Go Chair™'s  closed cell/antimicrobial foam is key to reducing the likelihood of positional head flattening.
A nationally published research study conducted by the patent owner Dr. Sonja Burmeister
found that many parents and caregivers were unaware of plagiocephaly and its potential impact on facial symmetry. Considering 25% to 40% of all infants have some form of positional head flattening and only a 77% success rate with typical treatments, there comes the great need to have a product on the market to significantly reduce these effects and provide the best outcome for infants all around the world. Discover the study here: Burmeister, S., Kayne, A. N., Yazdanyar, A. R., Hagstrom, J. N., & Burmeister, D. B. (2021). Plagiocephaly Perception and Prevention: A Need to Intervene Early to Educate Parents. The Open Journal of Occupational Therapy, 9(3), 1-11. https://doi.org/10.15453/2168-6408.1825
This revolutionary infant chair is designed to support infants in a reclined position, easily tilts in space and adjust in height as the child grows taller while consistently offering pressure relief to the back of baby's head. This design promotes optimal alignment of head and neck for feeding and reduces sustained head pressure, which has shown to cause bald spots and flattening of baby's head. It has lateral trunk supports that are removable along with a 5 point harness safety belt to keep the baby safely in the chair. This Grow As You Go Chair™ incorporates science and function to offer a chair that serves three positioning needs: comfort in play, optimal alignment for feeding, and portability. The baby's position is maintained at 90 degrees while this chair compactly pivots on its base. This feature enables the chair to stay strapped to a kitchen chair or highchair base to be adjusted during feeding, tilt back for a bottle, or sit upright for the baby to eat solid foods.
Parents can be confident knowing their child is safe and secure when placing them in the ergonomic Grow As You Go Chair™ for play and feeding time. Babies can relax, recline to enjoy their bottle, or slowly sit upright as they gain trunk control and begin eating solid foods. This chair can be placed on the floor, nested onto a highchair base, or fastened to the back of a kitchen chair enabling a baby to enjoy mealtime with the family. The chair can also be attached to a swing providing the flexibility needed for an active baby. The adjustability in this chair allows consumers to maximize their child's independence by supporting emerging sitting skills, promoting eye/hand coordination, and facilitating play and interaction with their environment. Alignment in this chair is more natural, supporting the anatomic curvature of baby's head and neck for easier suck, swallow and breathe when being fed a bottle or solids and while learning to self-feed. The Grow As You Go Chair™  is the only chair a growing child will need to support their growth and development from birth to toddlerhood.
Materials needed to produce the Grow As You Go Chair™:
BPA free plastic injection molding
Metal springs and adjustment mechanisms
Breathable, stain resistant, wipeable, washable cloth
Closed cell/antimicrobial foam with good memory retention
The Grow As You Go Chair™ is covered by United States Utility Patent: 9,925,893
For additional information, licensing opportunities, and a full prospectus on the Grow As You Go Chair™  contact:
BankOnIP
VP of Business Development
Email: info@BankOnIP.com