Wrap-N-Lock™
Because of its patented technology, using the Wrap-N-Lock™ no longer requires the user to go through the hassle and frustration of tying a knot. It can tie knots in ropes of any size, enabling quick and easy securement.
This item is fantastic for boating but can also be used for other outdoor activities like fishing, hunting, and kayaking.
PRODUCT FEATURES & BENEFITS
Special features
Eliminates the need to tie a knot to secure a rope
Quick use for ropes of all sizes and types
No Assembly or Disassembly
No Permanent Mounting
No Rope Feeding
PRODUCT DETAILS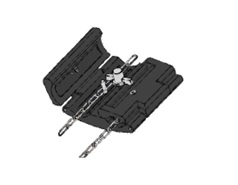 The Wrap-N-Lock™ is a rope clasp device for securing a rope,  eliminating the need for a knot in a rope by selectively clasping and encasing at least one portion of a rope in a toothed clamp. The rope clasp device comprises a base, at least one, but generally two swinging doors, and a lock. The swinging doors are pivotably coupled to the base to move between an open position and a closed one. In the closed position, a pair of channels for the passage of a rope is defined between the base and the doors.
The channels are defined by a plurality of clasping teeth to retain the rope. There can be a slight gap between the screw used to mount the tracks containing the teeth to the base and the swing doors to compensate for rope compression. As the rope pulls tight into the teeth, the gap allows the channels to come closer together to create compression on the rope as an additional securing feature. 
Materials needed to produce the Wrap-N-Lock™:
Doors
1 Back
1 Post
1 Cap
2 Door Hinges
2 Door Springs
1 Hinge Spring
1 Post-Cap Locking Pin
The Wrap-N-Lock™ is covered by United States Utility Patent: 10,654,543
For additional information, licensing opportunities, and a full prospectus on the Wrap-N-Lock™ contact:
BankOnIP
VP of Business Development
Email: info@BankOnIP.com