Drain Scribe™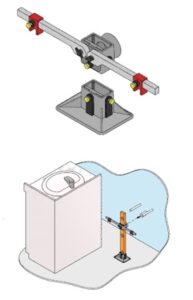 The Drain Scribe™ has been designed and produced to help eliminate costly errors when installing cabinets, drywall, FRP panels, marble, granite shower surrounds and other expensive materials. This innovative product makes it easy to align pipe openings accurately and always ensures a perfect fit.

 

The Drain Scribe™ has been created to simplify the installation process by providing an easy-to-use tool that allows users to quickly and accurately align pipe openings with the surrounding material. The device is highly versatile and can be used for various applications, making it an essential addition to any contractor or DIY enthusiast's toolkit.

 

One of the key benefits of the Drain Scribe™ is its ability to reduce the risk of costly errors that can arise during installation. By using this innovative tool, users can save time and money by avoiding the need to rework or correct mistakes that may occur due to misaligned pipe openings.

 

Overall, the Drain Scribe™ is a game-changing invention that has revolutionized the field of home improvement and construction. With its cutting-edge design and advanced features, this innovative tool provides a cost-effective solution for anyone seeking professional-level results in their DIY construction projects.
PRODUCT FEATURES & BENEFITS
Special Features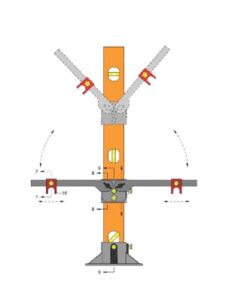 The Drain Scribe™ is packed with features and benefits that can save users time and money on their projects. One of the primary advantages of this tool is that it reduces the time spent measuring and aligning pipe openings, eliminating the need for manual adjustments or complicated math calculations.
This saves time and helps reduce the overall labor and material costs associated with the project. Users can avoid costly mistakes and rework by ensuring accurate and precise measurements, leading to a faster and more streamlined installation process.
Another key benefit of the Drain Scribe™ is its user-friendly design. The tool is easy to use, even for beginners, and requires no special training or expertise to operate effectively. This makes it an ideal choice for DIY enthusiasts, contractors, and anyone needing a reliable and efficient measurement tool.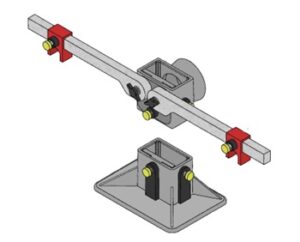 Additionally, the Drain Scribe™ can be used on any surface, making it a versatile choice for various applications. Whether you're working with wood, metal, concrete, or any other material, this tool can help you achieve accurate and precise measurements quickly and easily.
Overall, the Drain Scribe™ is a powerful yet simple tool that significantly improves any project's efficiency and accuracy. With its many features and benefits, it's worth considering for anyone looking to streamline their installation process and achieve professional-level results.
PRODUCT DETAILS
The Drain Scribe™ is designed with several features that make it a versatile tool for various applications. The foot design allows for easy positioning against a ground surface,
while the adjustable arms can pivot to the proper location of exposed pipes. The locking mechanism ensures that measurements are accurately locked in place, allowing for precise cuts and installations.
In addition, the Drain Scribe™ can be easily transferred to a template for prefab work at a shop. This means you can create accurate templates for future use, saving time and improving efficiency. And when it comes time to make cuts, the Drain Scribe™ can be moved to the material needed, with the base placed at the bottom for precise measurements.
Overall, the Drain Scribe™ is an excellent tool for anyone looking to improve the accuracy and efficiency of their installation. Its many features and benefits make it a top choice for professionals and DIY enthusiasts.
Materials needed to produce the Drain Scribe™:
8 Brass Tapping Inserts for plastic ¼''-20 thread size, 3/8''
8 Plastic-Head Thumb Screw Knurled, ¼''-20 Thread Size,3/8''long
2 Neoprene washer 7/16''-ID 1''OD
Main drain guide that supports the left and right arms
Left and Right arms
2 Pipe guides
1 Base support
2 Main drain and Base support guide spacers
The Drain Scribe™ is covered by United States Utility Patent: 11,407,100
For additional information, licensing opportunities, and a full prospectus on the Drain Scribe™  contact:
BankOnIP
VP of Business Development
Email: info@BankOnIP.com