Tamale Machine™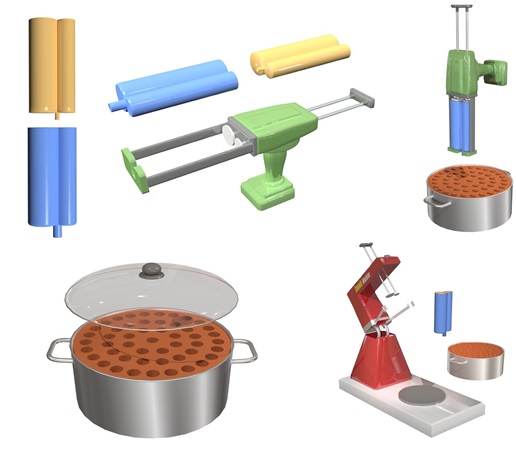 The Tamale Machine™ makes the process of assembling and cooking tamales much easier! Simply load your meat into the small tube, your dough into the large tube, and place the tube into either the handheld dispenser or the automatic dispenser.
Then, load your corn husks into the included steamer pot and dispense meat and dough into the steamer holes. Your tamales will have the perfect dough-to-meat ratio and will be steamed to perfection in the steamer pot.
The Tamale Machine™ is the solution to your tamale assembly and cooking problems!
There are also many other foods the Tamale Machine™ can be used for, such as cannolis, potstickers, dumplings, and much more! The Tamale Machine™ can also include meat and dough rolls that users can easily place inside the tubes for a mess-free cooking experience.
PRODUCT FEATURES & BENEFITS
Special features
Easy to use
Creates perfect dough-to-meat ratio
Forms tamales for you
Steamer pot with individual tamale steamer holes
Steamer pot cooks more than 20 tamales at one time
Can be used to cook many other steamed foods
PRODUCT DETAILS
The tamale preparing apparatus comprises two sets of cartridges, a plunging system, steamer forms, and a steamer pot to make and cook tamales. The ingredients for tamales are inserted into the cartridges set to make tamales. In one embodiment, the ingredients inserted into the cartridges could be corn dough (masa) and pre-cooked meat or cheese or veggies or any combination thereof. The two cartridges nest together and allow the extrusion of the masa around the pre-cooked meat filling into the parchment paper tube.
The plunging system consists of a hand-held device that can be battery-operated or plugged into an outlet to extrude the tamale into the steamer forms. In another embodiment, the plunging system is used as an automatic tamale machine for dispensing the materials into the steamer forms. The plunger of the tamale gun is used to help the plunging system to dispense the materials from the cartridges.
The tamale is extruded to the steamer forms in the steamer pots once the plunger is pressed down. In an embodiment, the steamer forms could be the shapers for tamales, when the tamales are kept inside the steamer pot for cooking.
Materials needed to produce the Tamale Machine™:
Nested Cooking Pots with Cover
Stainless Steel Cylinders and Holder
Ingredient Cartridges with Cutting Blades
Ingredient Pushing Motor and Assembly
Motor for Turning Pot on Automated Version
Electric Circuit Board
The Tamale Machine™ is covered by United States Utility Patent: 10,779,673
For additional information, licensing opportunities, and a full prospectus on the Tamale Machine™  contact:
BankOnIP
VP of Business Development
Email: info@BankOnIP.com