Foldable Wire Caddy™
The Foldable Wire Caddy™ is used to store and transport electrical wire reels. Wire reels can be sorted and accessible as needed, then removed and stored when the task is finished. The caddy can then be folded down for transport.
Because the Foldable Wire Caddy™ has a small number of components, building and disassembling may be done quickly.
PRODUCT FEATURES & BENEFITS
Special features
Compact Design
No Tools Needed For Assembly
Lightweight
Durable
PRODUCT DETAILS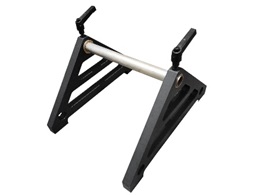 The Foldable Wire Caddy™ has two adjustable handle levers mounted on each bracket that will tighten the ½ EMT conduit inserted into the mounting holes. The conduit does not come with the brackets, as this is probably the most common item one can find in an electrician's van.
The Foldable Wire Caddy™ is made of aluminum plate with some additional elements of steel and bronze, thanks to which the whole set is light and durable. Unless mechanically damaged, there are no components that can break easily.
The Foldable Wire Caddy™ takes up little space while not in use, can fit in small openings or shelves, and can be assembled and ready to go in just a couple of minutes.
Materials needed to produce the Foldable Wire Caddy™:
5/8″ thick, 6″ wide aluminum plate
Flanged Bronze bushing
Stainless Steel helical inserts
Adjustable Handle Levers
Rubber feet
Clear Hard Coat Anodizing (recommended)
The Foldable Wire Caddy™ is covered by United States Utility Patent:  10696515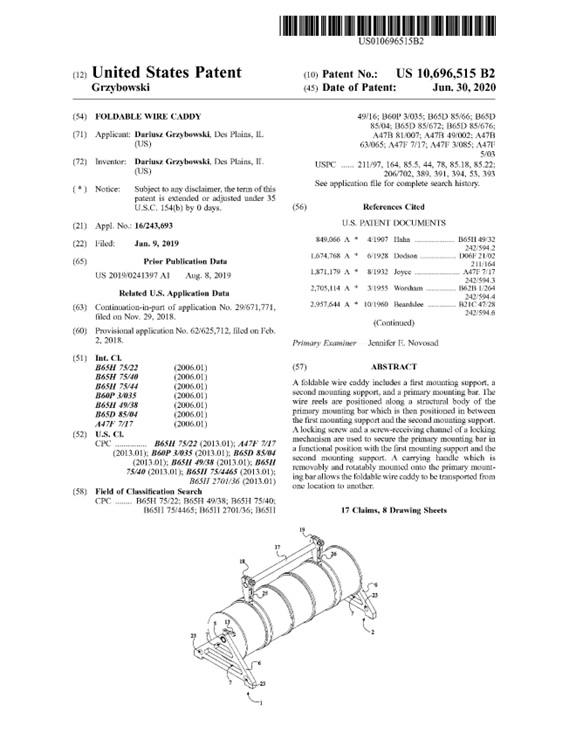 For additional information, licensing opportunities, and a full prospectus on the Foldable Wire Caddy™ contact: 
BankOnIP 
VP of Business Development 
Email: info@BankOnIP.com