This prospectus will introduce the View Saver Umbrella, a Non-View Obstructing Umbrella™, a newly patented technology available for licensing.
When using an umbrella or parasol, we want to block out the harmful sun's rays or rainy weather. When lounging by the beach or in a beautiful location, the umbrella angle can block the view, negating the scenery we wish to enjoy.
The View Saver Umbrella™ was created to block the sun but maintain the view. Its easy-to-use design is perfect for anyone looking to relax and unwind in the beauty of nature.
PRODUCT FEATURES & BENEFITS
Special features
Keep the view while staying protected
Easy one-hand operation
Use in tight spaces
Low-cost enhancement
Fits in current style umbrella stands
PRODUCT DETAILS
The View Saver Umbrella is a Non-View Obstructing Umbrella that features an adjustable canopy with a support structure. The design
features non-articulating umbrella ribs for support on the central post, with one articulating rib that allows the adjustment of the canopy.
The ability to fold the canopy allows the user to see more easily under the folded portion, giving them better access to the view, even when the umbrella is at a severe tilt to block out the sunlight.
The articulating rib(s) can also facilitate positioning the umbrella up against a wall, allowing users to place the View Saver Umbrella ™ in smaller places.
Materials needed to produce the View Saver Umbrella ™:
Aluminum Frame
Vinyl / Plastic (for umbrella)
Metal Screws
Hinges
Pin
Compression Spring
Bolts
Washers
The View Saver Umbrella™ is covered by United States Utility Patent: 10,813,423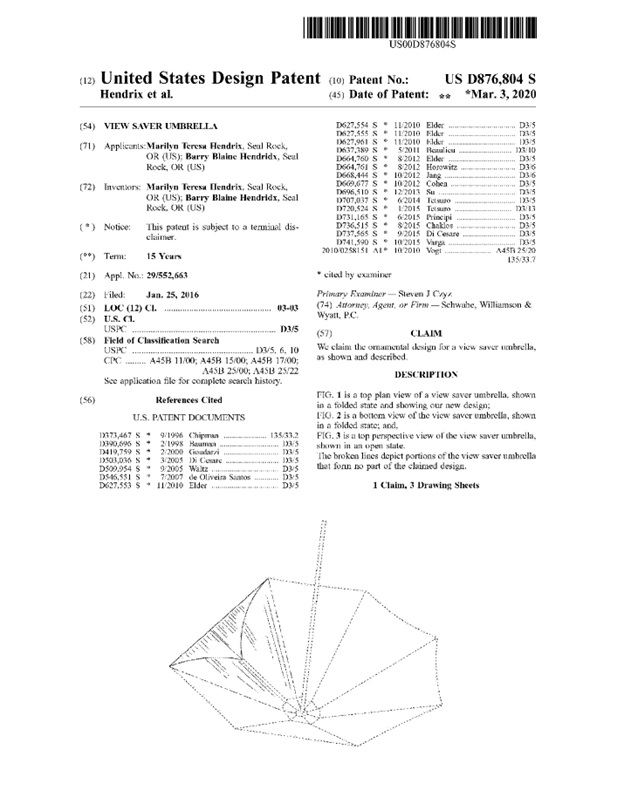 For additional information, licensing opportunities, and a full prospectus on the View Saver Umbrella™  contact:
BankOnIP
VP of Business Development
Email: info@BankOnIP.com