The Sleeve System™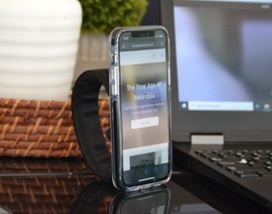 The Sleeve System™, a newly patented technology available for  licensing. In a world becoming ever more connected, technology is at our fingertips more than ever before. This is apparent with over 310 million smartphone users just in the United States as of 2023. Consumers are constantly looking for methods and products to improve their experience with their phones and other technology. This is where The Sleeve System™ seeks to provide a one stop solution to improve the consumer experience with their technology devices.
The Sleeve System™ is a product that connects devices to their external environment and the human form. It is composed of three components: sleeve garments, skins, and docks. Users can quickly and easily attach this product to their favorite technology devices such as phones. Then they can attach it to a car, bike, wall, arm, wrist, hand, and more. This makes it easy for them to bring along their device and use it to its maximum potential wherever they go whether that is a run or a presentation in a meeting room. This is also great when the user does not have proper pockets to store their device.
PRODUCT FEATURES & BENEFITS
Special Features:
Solution to connect devices to their external environment and the human form
Can be held or adhered to hand, wrist, or forearm
Multiple modes: wearable, folded, rolled, wrapped
Embedded "slap wrist" technology to quickly configure and connect to many structures and devices
Keeps the device secure and usable when attached
Quick and easy to change between modes
Can be used as a kickstand to prop up devices
Uses a hook and loop fasteners to adhere the fabric
Comfortable to wear with soft and breathable fabric
Easy care with machine washable material for the garment
Many configurations to meet the needs of the customer
One-size-fits-all design to provide comfort and inclusivity
Can carry multiple small devices (one or two phones)
Lightweight design to negate potential bulkiness
High quality, durable materials and components with strong fabric
Simple manufacturing process
Cost efficient design
PRODUCT DETAILS
The Sleeve System™ is a wearable adaptative multi-use utility sleeve that enables quick, convenient, and tenacious securement of the multi-use utility sleeve to a person's hand, wrist, or forearm, while also allowing for the swift and convenient attachment and detachment of one or more handheld items to the utility sleeve. This product offers several embodiments, each of which utilize a plurality of bistable ribbons, that allow for a one-size-fits-all design that provides the ability to conform to the user's body. Each bistable ribbon is in a state of equilibrium regardless of the position it is fashioned in. The product can be shaped into many variations of its four main forms: wearable, folded, rolled, and wrapped. This is shown in the picture below.
There are two main options for consumers to use The Sleeve System™. The Quarter Sleeve™ Kit is a popular option to purchase for normal daily activities. It comes with one sleeve garment/device, one 2"x3.5" adhesive skin, and four 1/2"x2" adhesive docking pods. The Mini Sleeve™ Kit is great for on the go with its mini sleeve band, one 2"x3.5" adhesive skin, and two 1/2"x2" adhesive docking pods.
One of the biggest advantages of this product is that it is very multi-use that it will greatly reduce the number of accessories consumers need to buy for their devices. Instead of needing an armband for running, a sturdy kickstand for watching shows, a car mount for navigating around town, and a mount for biking on trails, The Sleeve System™ can be used in all these circumstances and more. It has embedded "slap wrist" technology the helps the user quickly and seamlessly configure and connect the device to different structures. With its design including a hook and loop and fasteners to adhere to the fabric, it helps keep the device secure but also usable when attached to the person or an object.
The Sleeve System™ can be adhered to a person's hand, wrist, or forearm to allow them to bring along and easily use their device as needed. The one-size-fits-all design and paired with the soft and breathable fabric make it comfortable to wear anywhere on the person. Since it is lightweight, consumers won't have to worry about this product slowing them down or making them feel uncomfortable on the go. This product is made from high quality, durable materials that include a machine washable garment making it sturdy enough to take around and get dirty such as a muddy bike ride or a dusty trail run. For manufacturers, this device is a dream to make with a simple manufacturing process that can easily be scaled with a cost-efficient design with room for cost reduction. With The Sleeve System™, the sky is the limit with the possibilities.
Materials needed to produce The Sleeve System™:
The The Sleeve System™ is covered by United States Utility Patent: 11,497,300
,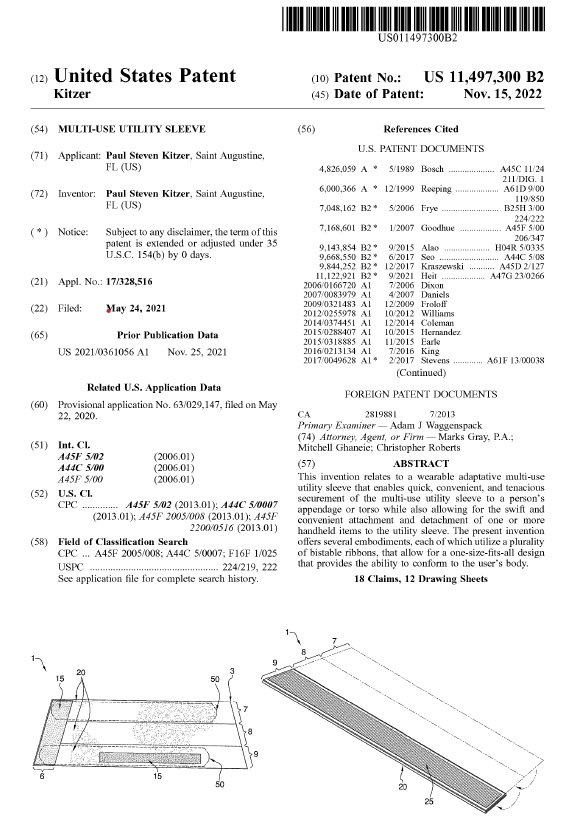 For additional information, licensing opportunities, and a full prospectus on the The Sleeve System™  contact:
BankOnIP
VP of Business Development
Email: info@BankOnIP.com