Shore And Chore™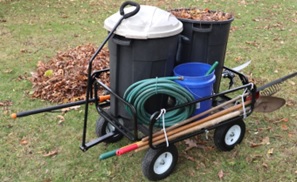 The Shore And Chore™ was designed for the outdoor recreation economy to carry surf boards, boogie boards, paddle boards, kite boards, and wind surfing equipment.  The Shore And Chore™ can carry 2 boards and still have room for coolers, chairs, umbrellas and more.  With the outdoor recreation economy accounting for 1.8% or $374.3 billion of the current-dollar gross domestic product for the nation in 2020, the future looks bright for innovations in transporting all of the accessories a family needs for a fun outing.  The Shore And Chore™ can do just that.  With its frame designed for easy transport of everything from large surfboards for the big kids to the smallest sand and water toys for the little ones, this wagon can carry it all. Beyond the beach, and with its heavy-duty 400 lbs cargo capacity, the Shore And Chore™ can be used for chores around the house, in the yard or garden or in a warehouse setting.
The Shore And Chore's™ ability to adapt and expand to fit all of your needs with available accessories, makes it a must have for fun on the beach,
camping, and even chores around the house or yard.
Imagine being able to carry everything you need to get the yard work done in one cart.  No going back and forth for another shovel, rake, or garbage can.  You can store small hand tools in the side pockets and even carry drinks in the front and back panels with the built-in pockets.  Just carry it all with you in one easy to pull cart.
The Shore And Chore's™ ability to carry large and small items easily makes it a great addition to any professional or weekend handyman's tools.  Everything can be at your fingertips.
In a warehouse it can be used to move large, heavy, and awkward loads that would otherwise take two to carry. The useful applications are endless.
PRODUCT FEATURES & BENEFITS
Special features
Able to transform into a flatbed
Telescoping sides
Ability to use each side independently
Removable front, back and sides
Canvas covers for protection and storage
Airplane nose for stability at the inflection points
Bicycle arm and attachment
400-pound capacity
Large 24" cargo bed
Inflatable wheels
High ground clearance
Adaptable for multiple applications
Perforated to allow water, sand, and debris to seep through
High quality, durable materials
PRODUCT DETAILS
The Shore And Chore™ is the perfect carry-all for a fun beach or camping outing and that tough home or work project.  The Shore And Chore™ is a wagon designed for transporting beach articles and
elongated water sport boards.  It has a 24" bed with a peripheral frame with three cross tubes beneath a bottom wall.  The frame is carried on front and rear wheel assemblies. Front and rear walls are mounted on the frame, and the side walls are adjustably positioned with respect to the frame.
Each side wall has two tubular extensible support members which telescope within the frame.  When a side wall is positioned outwardly, the extensible support members are positioned to receive a water sport board, such that it extends through the front and rear slots defined between the front and rear walls and the extended side wall.  A clamp is associated with each side wall and actuatable to alternatively secure or release the wall.
The ability of the Shore And Chore™ to also remove the front and back side of the cart allows you to carry kayaks, umbrellas, or lounge chairs.  This has the added benefit of leaving space in the middle of the cart for all those extras we need to be comfortable while at the beach or camping.
The Shore And Chore™ side canvas panel has a padded fold down flap to protect expensive boards from being scratched and help to keep smaller items such as kids sand toys inside. This also helps protect the items and the cart from metal-on-metal exposure.  The slipcovers offer roomy side pockets for small items. The front and back panels provide convenient beverage holders large enough to hold 20-ounce bottles to help you stay hydrated in the sun.  Velcro closures allow for quick and easy on and off. The panels withstand any environment and are fade resistant for 500 hours of UV protection. It comes in a bright colorful Aqua-blue/green.
The available Shore And Chore™ front stabilizing wheel includes a 12" tall swivel wheel unit with clamp bolt and wing nut. The stabilizing wheel clamps directly and easily to the front handle bracket.  This allows for additional stability at the infraction points and better maneuverability over all terrains.  It also helps prevent tipping when turning sharply while carrying heavy and or long surf boards in the extension arms.
An additional Shore And Chore™ bicycle towing kit is available to make carrying your boards, coolers, chairs, and any other goodies you might need for a relaxing and fun day at the beach. It comes with a two-piece coupler spring adapter and a swing arm that wraps around the rear tire for proper towing alignment.  The coupler mounts directly to the bicycle wheel hub and the spring action allows the bicycle to lay flat on the ground without uncoupling.
A set of 4-26" Shore And Chore™ Bungee Ball tie down straps are included in all packages.  Each end of the carts side panels has a locking notch welded into the frame making securing the cords simple. The ball end design easily notches into the frame for a fast and secure tie-down and provide enough stretch to tie down most paddle board and surfboard widths.
For those times you need an open flatbed, the front, rear, and side walls can be removed allowing you to move large or awkward items easily. With a towing capacity of 400 pounds and an interior bed size of 24"x40" extendable to 37"x40" the Shore And Chore™ cart can carry heavy and large loads for fun as well as for work in the yard or the workplace. This makes that heavy hauling faster and safer.
The Shore And Chores™ ability to convert to a flatbed will come in handy in a warehouse or on a worksite.  The expanding sides are able to contract to help secure wide flat loads.  The optional front stabilizing wheel provides for safer turns when fully loaded.  With the sides up the cart stands at 25" tall on 12" inflatable wheels and weighs 60 pounds.
Materials needed to produce the Shore And Chore™:
The Shore And Chores™ is covered by United States Utility Patent:  11,117,604 and 10,829,137
For additional information, licensing opportunities, and a full prospectus on the Shore And Chores™  contact: 
BankOnIP 
VP of Business Development 
Email: info@BankOnIP.com