Bring Brooklyn Home™
With over $1 billion dollars each year spent on slipcovers and decorative pillows, it is no surprise that many households use decorative pillows to bring together their home
décor. Decorative pillows and slipcovers can help tie together color accents within a room along with providing a more casual and homey feeling to those enjoying the space. With such a big industry, there is a huge range of decorative pillows and slipcovers when it comes to design, texture, size, price, and comfort. The Bring Brooklyn Home™ seeks to challenge the decorative pillow and slipcover industry along with other industries by revolutionizing the way designs are made and imprinted on material.
The Bring Brooklyn Home™ is a patented process to emboss and deboss fabric to create any kind of design. The unique look and feel of these 3D designs that stand out provide a new and stylish product that consumers from all backgrounds will love to add to make the finishing touches on their home designs to show off to others. The product itself is also high quality and soft to the touch making the decorative pillows also usable versus just having them as showpieces. This process can be used on products such as covers for cushions or pillows, pouches, or bags, but we will mainly focus on the cushion and pillow products for the remainder of the prospectus since this is the current focus of the method.
PRODUCT FEATURES & BENEFITS
Special
Provides patented embossed and/or debossed design on fabric like a cushion or pillow
Unique look, feel, and designs provide a heavily desired product to consumers
Able to customize the design to print any verse, image, or word on the fabric
Can be used for schools, sports teams, hotel lobbies, company gifts, conferences, man caves, museums, recording studios, church welcome gifts, souvenirs, and promotional items
Able to use on products such as covers for cushions or pillows, pouches, or bags
No limit on age or gender to enjoy this product
A cushion or pillow with the design can be paired with or without cushion filler or insert
New York spirit designs exuding: tough, fearless, original
Versatile sizing with standard sizing like 16" x 16" or custom sizing for any measurement
Cushion cover contains an invisible zipper closure for easy wash and filler insert
PRODUCT DETAILS
The Bring Brooklyn Home™ is a patented process to emboss and deboss patterns and designs onto fabric material. Embossing is the process of creating a raised relief,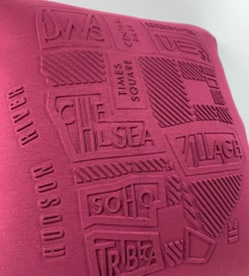 image, or design into emboss-able materials. Debossing is the same process as embossing, but it creates a recessed version. For example, an embossed pattern would be raised against a background versus a debossed pattern would be sunken into the surface of the material.
The process to get the embossed and/or debossed patterns into fabric such as a cushion cover start with two fabric materials combined to form the fabric cushion. Then the two heavy metal master molds with the designs on them are secured to the device with two platens. Now the artisan can place the pieces of fabric between the two molds. The two molds are then pressed together to put pressure and heat on the pieces of fabric to emboss and/or deboss the design into the fabric.
Finally, the molds are released, and the design is now embossed and/or debossed and ready to be finalized into whichever product it needs to be such as sewing it together and adding a zipper for a cushion cover. This creates an elaborate 3D design that will catch anyone's eyes. The design process is thorough and needs an artisan with design and technical skill to properly understand the material and piece being created to ensure it is a top-quality product.
This process provides a unique product for consumers to enjoy as they add the Bring Brooklyn Home™ product to their home. Many of the current designs exude the New York spirit of tough, fearless, and original. The cushion covers created are made of comforting fabric that is soft to the touch making them not only beautiful to observe but comfortable to use for cuddling and resting on. The cushion covers contain an invisible zipper closure for easy wash and filler insert. The materials used to make these products are high quality and durable to ensure they feel luxurious while also being long-lasting for consumers to use and easy to clean with being machine washable. The cushion covers are also lightweight and compact making them easy to ship and travel with. Currently a limited set of fabric colors are used in order to ensure the design properly shows.
One of the best overall features of the Bring Brooklyn Home™ is the customizability and versatility it offers consumers. One of the big advantages is being able to print any sort of design ranging from college team logos to verses to images and anything else the consumer can imagine. All sorts of people can enjoy this product from kids to the elderly and single bachelors to large families. Surprisingly, the current split of customers is 50/50 for men and women purchasing this product making it much more popular among men than expected due to its sleek look and customizability.
The Bring Brooklyn Home™ is perfect for gifting to colleagues, placing in hotel lobbies, sharing with sports teams, and sprucing up a living room. Currently the product has
been trademarked and used with 8 different colleges such as Carnegie Mellon University, Vanderbilt, and Texas A&M. It can also be trademarked for other colleges or organizations. This product can be used for sports teams, currently with samples made for the Dallas Mavericks that were shown to Mark Cuban.
Designs such as motorcycles, games, and sports can be used to decorate man caves to spruce them up with a manly aesthetic. This product was used at the MHCCC church as a welcome gift to first time visitors to promote an inviting and memorable experience. In places like New York City, this product has been used in recording studios to make it more comfortable along with setting the ambiance of music and/or the record label. Companies have used this product to promote their company and new products they launch along with providing a personalized gift for a department's team members.
The way these products are made creates a very 3D design that can be easily seen at all angles making it stand out. The 3D design is are easy to feel where customers can run their hand over the product to feel the texture of the design along with having the cushion easily bounce back with the design after being compressed. These designs can have embellishments added to them such as shown on the left with the dog pillow that has extra fabric on top of the design and a few studs for the dog's collar. The cushion covers can also be paired with or without a filler or insert providing the consumer with options on how they would like to receive the product. The sizing of the pillow cover can also be customized alongside offering standard sizes such as 16" x 16" or 20" x 20".
Bring Brooklyn Home™ expands past just cushion or pillow covers to be used with pouches, bags, and many other fabric products. It is also a proven product with many sales already having been made to consumers and organizations all over the United States and some internationally. All of this makes the Bring Brooklyn Home™ the perfect product to add to the home or workplace.
Materials needed to produce the Bring Brooklyn Home™:
Two fabric materials
Two heavy metal master molds
Heat to have between the molds
Device with two platens
Device to carve designs into the molds
Product accessories like zippers and filling
The Bring Brooklyn Home™  is covered by United States Utility Patent: 10,465,322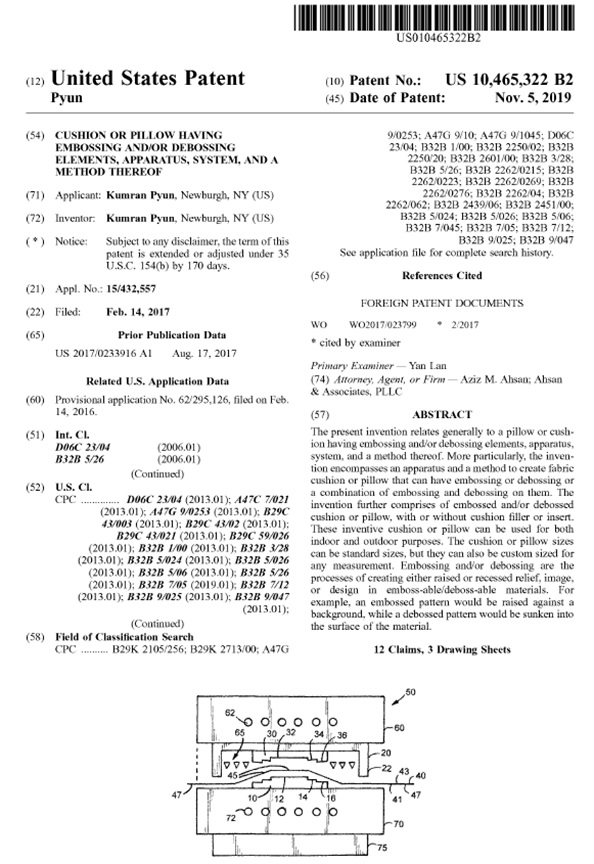 For additional information, licensing opportunities, and a full prospectus on the Bring Brooklyn Home™  contact:
BankOnIP
VP of Business Development
Email: info@BankOnIP.com