Mud Flap Lift System
The Mud Flap Lift System is device for temporarily lifting the mud flaps on trucks or trailers. These are usually applied to dump trucks to prevent the mud flaps from being torn off while dumping or during asphalt spreading operations.
After the mud flaps are lifted, the contents of the live-bottom trailer, such as asphalt and other road construction materials, can be dispensed without causing damage to the mud flaps.
PRODUCT FEATURES & BENEFITS
Special features
Easily lifts mud flaps
Prevents damage to mud flaps
Allows work to progress faster
Works for trucks/trailers
Good product for paving operations
Works with all paving materials
Prevents mud flap replacement
Saves money and time
Safe and economical product
PRODUCT DETAILS
The Mud Flap Lift System was created for a live bottom trailer that deposits asphalt into a paving machine engaging the rear wheels with a bumper or roller (or rollers) during the paving operation. The system comprises a pair of mud flap lift cylinders, one cylinder located on each side of the vehicle load box, the lift cylinders located in front of the rear wheels and the mud flaps.
The lift cylinders are positioned on or above the upper sides of the vehicle fenders outside of the load box and aligned with first cable guides. The lift cylinders and their respective cable guides are located inside the fender outer edges relative to the load box.
Cables operated by the lift cylinders extend rearwardly from the cylinders, over the rear faces of the mud flaps to the lower ends. The lift cylinders are capable of retracting the cables with a sufficiently long stroke to raise the lower ends of the mud flaps into a curved U- or J-shaped configuration above the centerline of the rear wheels and rearwardly up and away from the wheels and the underside of the fenders. In the raised position the lower portions of the mud flaps are substantially vertical and above the paving machine rollers.
Materials needed to produce the Mud Flap Lift System:
Mud flaps
Cables
Cable holders
Pneumatic lift cylinders
Air hoses
Air supply
Electric over air solenoid
Operating button
Brackets and connectors
The Mud Flap Lift System is covered by United States Utility Patent: 10,683,041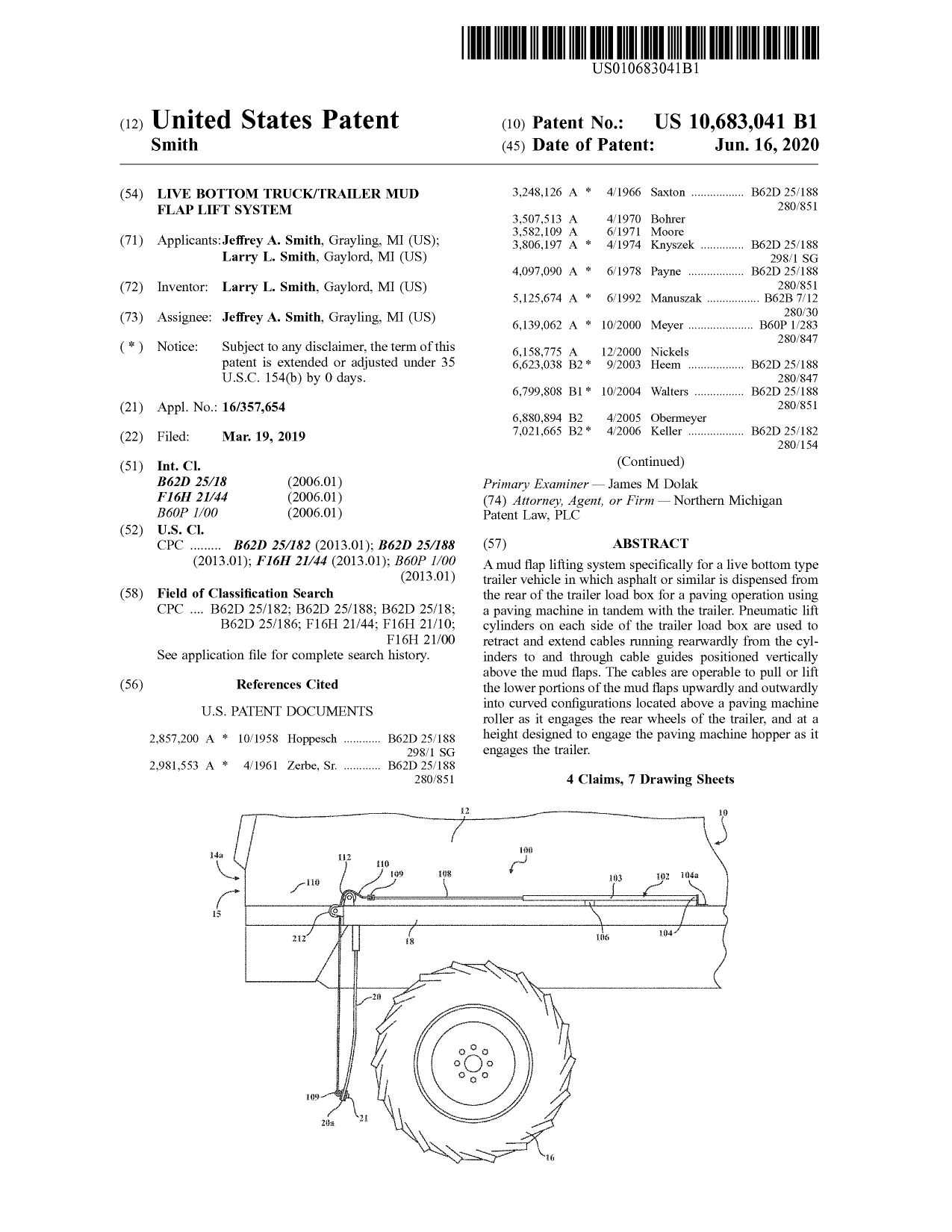 For additional information, licensing opportunities, and a full prospectus on the Mud Flap Lift System  contact:
BankOnIP
VP of Business Development
Email: info@BankOnIP.com