Portable Organizer
With all the items people need to carry around nowadays, it is no surprise there is a huge market for products that include organization and storage. People often need to bring items to work such as a
laptop, uniform, padfolio, and water bottle. Many people such as realtors, attorneys, and sales persons use their car as their temporary office where they constantly need to carry around a lot of important documents. There are a variety of products available on the market, but nothing works as well as the Portable Organizer™ for bringing items on the go, especially in the car.
The Portable Organizer™ is a bag type product that is built to keep lightweight items such as documents stored and organized on the go. It is built for professionals on the go as well as being useful for people such as students or other workers wanting an easy and secure way to transport their items to and from work. It easily and securely fastens to car seats along with having the option to use it like a backpack to carry around the items stored within. It combines the ease of being able to store and access items along with keeping them secure when in motion.
PRODUCT FEATURES & BENEFITS
Special Features
Allows people to store their items on the go
Best solution for storing documents and other lightweight items in a vehicle
Is malleable to hold a lot of lightweight items in the large main pocket
Has adjustable straps to secure around car seats or wear like a backpack
Easily attaches and detaches from a car seat
Able to properly secure to a car seat to not slide around when vehicle is in use
Has flexible dividers to organize items within
Easily accessible for the user to access the contents stored within
Able to have a person utilize the car seat the product is in when no objects are stored in the product
Contains a front pocket to place items such as pens
Able to be made in a variety of colors
Easy to clean
Lightweight and breathable materials
Cost efficient design
High quality, durable materials
Simple manufacturing process
PRODUCT DETAILS
The Portable Organizer™ is a portable organizer bag like product that has front and back parallelogrammical panels with two side panels that attach the front and back ones. The panels are
encompassed by a durable fabric, and the side panels are made of a mesh material to make it breathable. A strap system secures the Portable Organizer™ to a backrest of a vehicle seat, where the strap system has a belt strap configured to encircle the backrest of the vehicle seat. The strap system also has left side and right-side suspender straps which further secure the portable organizer to the vehicle backrest. It is designed to be affordable for the everyday user.
Many people use their vehicles as a temporary office such as realtors, attorneys, contractors, sales people, repair people, etc. When a vehicle is used as a temporary office or used to transport lightweight items such as documents, this can present a frustrating set of challenges. Often when vehicles are in motion, the contents within them such as documents can shift or be thrown on the floor or around the car causing a huge mess. The Portable Organizer™ solves this issue by providing straps that can quickly and easily secure around a car seat preventing the items, such as documents, stored within form moving about the car when in motion. The straps have buckles on them to easily lengthen and shorten the straps to the desired length to ensure car seats of a range of shapes and sizes can utilize the product. The buckles keep the straps secure though once in place to make sure the product does not move.
People usually need their documents to be easily accessible versus having to dig inside a briefcase or similar product to find what they need. The Portable Organizer™
is designed with a large opening at the top to easily move items, such as documents, in and out of the product. This makes it much easier if the user needs to quickly grab their items or check something without having to dig around. The product also has flexible dividers to help keeps the items within organized making it very easy to keep documents and other belongings organized when in motion. This also helps speed up the process of finding what is needed amongst the items stored within the product.
If something such as a briefcase or box is being used, it usually needs to be removed from the passenger seat it is in to be used by a person. The Portable Organizer™ can be compressed very flat when no items are stored within or if only a few small items such as documents are stored within. This makes it easy to have someone use the seat the organizer is in without obstruction or feeling discomfort along with staying safe. Passengers will barely notice a difference between having the product there or not, so this makes it easy to not have to attach/detach the product all the time.
The Portable Organizer™ also has multiple other notable features. The product is able to be semi-permanently attached to a seat adding to the flexibility of it. Users can use the product like a backpack if they wish to take it outside of a vehicle. The material used is malleable making it easy to fit in objects of varying sizes and shapes such as those larger than the original width of the product like a water bottle. The product is very easy to clean with a quick wipe of a cloth or a basic cleaner if something soaks in. The product can be made in a multitude of colors and patterns to suit the aesthetic needs of different users. The design itself of the Portable Organizer™ can also be varied to allow for other functionalities and purposes depending on what makes sense to expand into market wise.
Materials needed to produce the Portable Organizer™:
Front and back panels
Fabric to encase panels with front pocket
Mesh material to attach panels
Fabric straps
Buckles on straps
Thread and tools to assemble
The Portable Organizer™ is covered by United States Utility Patent: #10,486,606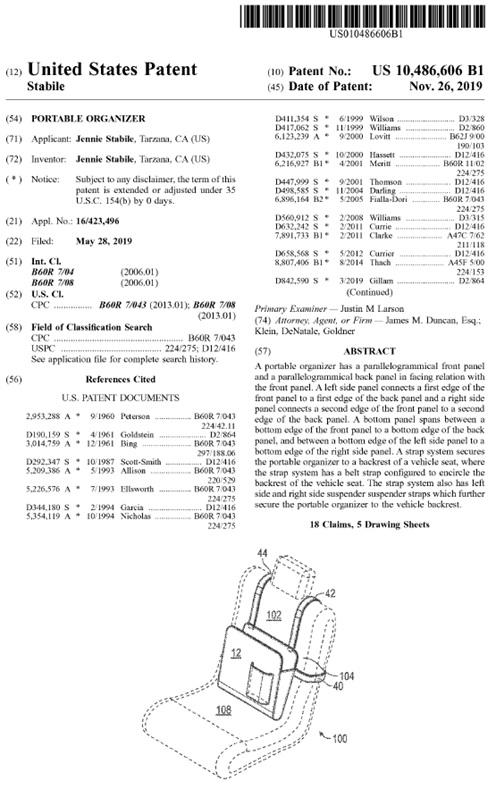 For additional information, licensing opportunities, and a full prospectus on the Portable Organizer™  contact:
BankOnIP
VP of Business Development
Email: info@BankOnIP.com