Door Wrangler™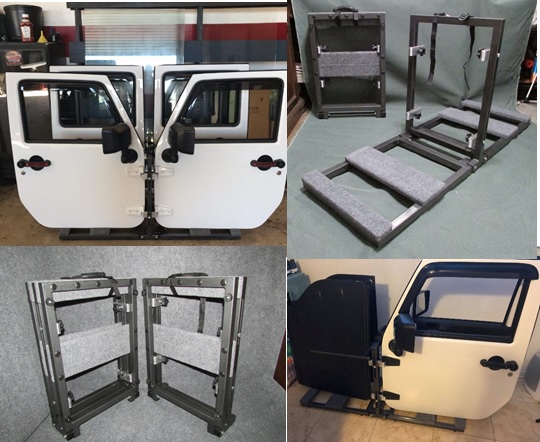 A portable storage device for vehicle doors is in demand. Some vehicles currently on the market feature removable parts—the Jeep, for example, which allows users to remove or add parts as they wish, so that a user can easily take the doors off the vehicle. However, finding a place to store doors after removing them from the vehicle can be difficult: Leaning them against a wall or laying them on the ground may damage or dirty them.
To solve this storage problem, the Door Wrangler™ was created. The Door Wrangler™ is intended to address problems associated with, and/or otherwise improve on, conventional devices through an innovative door storage device that is designed to provide a convenient means of portability while incorporating other problem-solving features.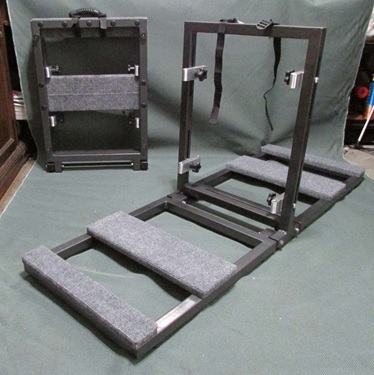 The Door Wrangler™ is a storage frame that keeps car doors off the ground and prevents them from getting scratched. The support frame holds the doors in place with hinges and joints, keeping them upright, as if they were still attached to the car. This helps prevent damage to the door, like warping of stress on the hinges.
The Door Wrangler™ is available to hold 2 doors and 4 doors, and the price on each unit differs. The costs and price of each option are listed in the financial outlook.
The Door Wrangler™ is the first product of its kind on the market. While other door hangers and storage systems exist, none are compact and portable. Portability is important for off-road vehicle use and can also benefit mobile mechanics.
PRODUCT FEATURES & BENEFITS
Special features
Compact
Weighs 20-28 pounds
Portable
Hinge pin receivers are adjustable to the doors
Can be used for many years, makes, and models of Jeeps and Gladiators
User-friendly
PRODUCT DETAILS
The Door Wrangler™ is designed to hold either 2 or 4 car doors and is compatible with many makes and models of Jeeps and other off-road vehicles. Each storage unit has 4 slots and 4 hinge pin receivers for adjusting and securing the doors to the unit.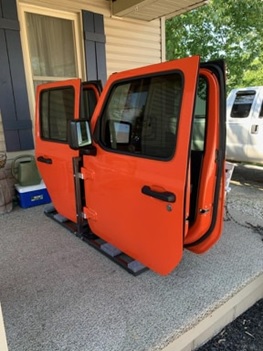 The hinge pins can be adjusted to fit different types of Jeeps and other off-roading vehicles. The 2-door Door Wrangler™ has 1 rotatable door support, while the 4-door unit has 2. This allows the 2-door unit to comfortably and securely support 2 car doors, and the 4-door to hold 4 car doors. The best aspect of this product is that it can fold into a compact size for portability and space-saving purposes.
Materials needed to produce the Door Wrangler™:
The Door Wrangler™ is covered by United States Utility Patent: 11,172,761
For additional information, licensing opportunities, and a full prospectus on the Door Wrangler™  contact:
BankOnIP
VP of Business Development
Email: info@BankOnIP.com