CleanCrop Sprayer™
Crops such as soybeans, dry beans, field peas, sugar beets, potatoes, lentils, etc., are planted in spaced-apart rows. The spacing of the rows may be 16", 22", 28" or 30". Usually, shortly after the crop is planted, the ground between the rows is sprayed with an herbicide to prevent the growth of weeds between the rows. However, post-emergence weeds may begin to grow between the rows. It is difficult to spray the ground between the rows, since the canopies of the crop in adjacent rows have spread outwardly over the ground between the rows. The overhang of the canopies shields the ground below, thereby making it difficult to apply a post-emergence herbicide to the ground between the rows.
Hooded row crop sprayers have been created in an attempt to spray an herbicide onto the ground between the crop rows. Current hooded row-crop sprayers utilize hoods that extend over and around the crop row to shield the crop from herbicide spray. However, the hooded crop sprayers are not adjustable to fit the changing crop canopy as the crop grows.
The CleanCrop Sprayer solves the current problems that most farmers face during pest prevention.
The CleanCrop Sprayer is designed to spray herbicides between multiple rows of crops without spraying the plants themselves. The machine can be manufactured for various row widths to spray more rows of crops at a time with few modifications. The spray nozzles are located between shields to protect the crops from the herbicide. The crop shields can be adjusted via hydraulics to provide optimum coverage during spraying. It is currently the only product in the world capable of adjusting with hydraulics to protect different-sized plant canopies. This includes plants with canopies over 36" wide! The CleanCrop Sprayer can be also pulled by a tractor, ATV, or other heavy-duty vehicles.
It is clear from previous inventions that there is a huge market for the CleanCrop Sprayer.
PRODUCT FEATURES & BENEFITS
Special features
Only product capable of adjusting for canopy size via hydraulics
Protects plants from harmful pesticides
Adjusts to protect plants with various canopy sizes, including those over 36"
Manufactured for various row widths
Sprays multiple rows at a time
Can be pulled via tractor, ATV, and other heavy-duty vehicles
PRODUCT DETAILS
The CleanCrop Sprayer can be assembled to spray the ground between multiple crop rows at a time. Spray nozzles are connected to spray booms and are located between the protective shields. The spray booms are connected to a linkage system that automatically rotates the boom to the right position in relation to the shield positions. The CleanCrop Sprayer can be hooked up via a hitch to a truck, tractor, or other heavy-duty vehicles to be pulled along during spraying.
Materials needed to produce the CleanCrop Sprayer™:
three-point mounted toolbar
row-unit support arms
parallel linkage to suspend row units
dual thread acme screws for adjusting the shields
drive system for moving the shields
plastic shields to protect the crop
spray booms for between each crop row
linkage system to rotate the boom to automatically
be in the right position in relation to shield position

pump, manifold, pressure gauges, plumbing and nozzles

liquid supply tank
gauge wheels
multiple bearings
mounting hardware
The CleanCrop Sprayer is covered by United States Utility Patent:  10,602,733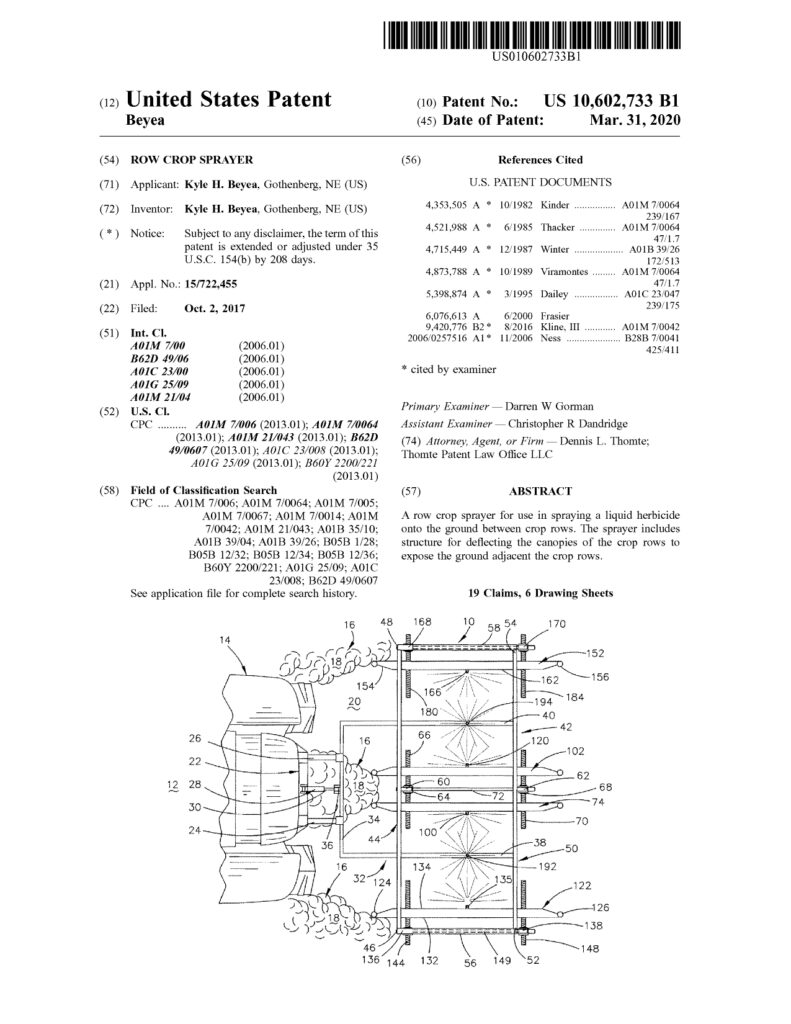 For additional information, licensing opportunities, and a full prospectus on the CleanCrop Sprayer contact: 
BankOnIP 
VP of Business Development 
Email: info@BankOnIP.com