Ergo Cone™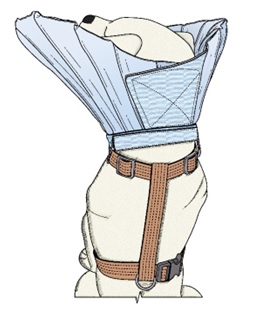 Cones are essential for animals after surgery because they prevent them from licking or biting at the surgical site, which can lead to infection or re-injury.
The downsides of Victorian collars (also known as Elizabethan collars or cones) can include discomfort, restricted movement, impaired vision, difficulty eating/drinking, and increased stress/anxiety.
The brilliant design of the Ergo Cone™ allows animals to have movement and visuals of their surroundings still, while still protecting their surgical sites.
PRODUCT FEATURES & BENEFITS
Special features
Safe
Comfortable
Functional
Prevents Visual Impairment
Blend of Stiffness/Flexibility
PRODUCT DETAILS
The Ergo Cone™ is made of two main sections, a cone-like structure and an integral collar attached to the base of the cone-like structure. The cone-like structure is fabricated to
include a plurality of radially oriented-tapered pockets filled with poly-fil fiber.
The filled pockets exhibit a semi-rigidness and impart a degree of inherent stiffness, flexibility, and elasticity to the performance properties of the cone. Thus, the Ergo Cone™ provides the proper stiffness/flexibility in the cone portion that is not too stiff (where being too stiff or too rigid can result in undesirable environmental impacts with furniture, doorways, chairs, etc., and making laying down difficult) and also, that it is not too flimsy (such that it could be easily circumvented).
The plurality of sewn-tapered-pockets may be of different lengths such that the cone-like-structure has an overall scalloped shape which
provides several benefits such as proper length of extended protection coverage proximate to the animal's mouth region that is effective at preventing undesirable self-inflicted licking and/or biting and less coverage relative to the area above the head to prevent visual obstruction at the sides of the animal's head to minimize interference with the animal's peripheral vision, which can and does lead to anxiety.
The greater width and, thus, a larger contact area of the integral collar provide more comfort and protection by better distributing impact loads from the collar to the neck area.
The Ergo Cone™ comes in 5 different sizes, with a sizing guide included so pet owners can find the correct fit for their dog.
Beveled contour of cone shape on lateral profile provides a broad clear opening around the eyes and upper head region with unencumbered blockage of vision but the extended portion positioned below is adequate to prevent licking or biting at wounds, incisions, hot spots, or other vulnerable areas.
Materials needed to produce the Ergo Cone™:
High-denier nylon fabric
Poly-Fil (Premium Polyester Fiber Fill)
Polyester or nylon straps
Velcro
Bonded polyester thread
Grommets
Fabric adhesive
The Ergo Cone™ is covered by United States Utility Patent: 10,624,318
For additional information, licensing opportunities, and a full prospectus on the Ergo Cone™  contact:
BankOnIP
VP of Business Development
Email: info@BankOnIP.com