Sink Stix™
Most people enjoy the look of an undermount sink. The sink's edge lip is attached beneath a solid surface countertop, so the sink practically hangs beneath the counter rather than sitting on top of it; this produces a continuous flow from countertop into sink. This makes countertops easier to clean and creates a clean, finished look.
Proper installation and sealing are essential for preventing leaks and ensuring the sink is adequately supported. Undermount sinks are commonly bonded with a two-part epoxy adhesive and sealed around the circumference with silicone caulking. You need to allow plenty of time for the epoxy to work before letting the sink sit on it's on.
The Sink Stix is an all-in-one tool that will hold you sink tight against the countertop, as the epozy dries, without causing any damage to either surface.
PRODUCT FEATURES & BENEFITS
Special features
No Additional Tools Required
Allows User To Be Hands Free During Drying Time
Doesn't Cause Damage to Countertop or Sink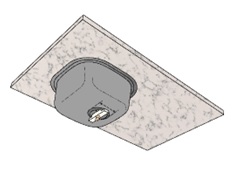 PRODUCT DETAILS
The Sink Stix™ consists of a plank, a cord, and a block. The plank has a length that is longer than the opening width of the countertop. The cord and a top and bottom end. The top end of the cord is attached to the plank. The block is affixed to the bottom end of the cord. The block is configured to be inserted into and secured under the drain hole. The block's length should also be longer than the drain width of the drain hole. The Sink Stix™ is configured for holding the undermount sink against the underside of the opening of the countertop through the cord being attached between the plank and the block.
Materials needed to produce the Sink Stix™:
The Sink Stix™ is covered by United States Utility Patent: 11,326,329
For additional information, licensing opportunities, and a full prospectus on the Sink Stix™  contact:
BankOnIP
VP of Business Development
Email: info@BankOnIP.com