Antimicrobial Skin Cream
The Antimicrobial Skin Cream is a cosmetic and medical product with multiple uses. Cosmetic uses include reducing the appearance of fine lines and wrinkles, replenishing moisture, and encouraging the production of collagen to tighten up sagging skin, making skin appear more youthful. The medicinal uses include clearing up acne, treating skin diseases such as eczema, leprosy, burn wounds, and impurities. This cream can provide a harmony between beauty and health of skin.
PRODUCT FEATURES & BENEFITS
Special features
Improves damaged or diseased skin
Replenishes moisture in skin
Clears up acne, blemishes
Heals burns, wounds
Reduces the appearance of lines and wrinkles
Tightens up sagging skin
Treats skin diseases, such as eczema, ringworm, leprosy, and more
Produces collagen for a youthful appearance
Gives skin a healthy glow
Can be used as a cosmetic or medical product
Boosts skin immunities
All-natural ingredients
Proven formula
Multiple-use product
PRODUCT DETAILS
The Antimicrobial Skin Cream is a product that uses new, hybrid technology to create a beauty cream that can also be used for medicinal purposes. Ortho-silicic acid is the active ingredient that enables the cream to be effective. The cream heals incurable wounds, burns, diabetic wounds, acne, all skin blemishes, and may also be used to treat external hemorrhoids.

 

The Antimicrobial Skin Cream is also used as a cosmetic, and perform functions such as cleaning the face, skin, treating acne, smoothing lines and wrinkles, and heals skin blemishes. It replenishes the moisture skin needs, and produces collagen for a youthful and healthy appearance.

 

The Antimicrobial Skin Cream is a multi-purpose product, made of all-natural ingredients, that can be used for beauty and medicine, with benefits for everyone of any age, gender or ethnicity.

Materials needed to produce the Antimicrobial Skin Cream:
A cream for treating the skin may include gray clay kaolin; sodium lauryl ether sulfate; blue tartrazine; sodium chloride; menthol; metabisulfite sodium; gelatin; mineral oil; olive oil; oil of cloves; water; green tea; honey; talc; and aloe vera. The cream may also include apple perfume, vitamin E, vitamin D, vitamin C, vitamin B2, vitamin B5, vitamin H, vitamin B6, and vitamin D. The cream may also include fatty acids.
The Antimicrobial Skin Cream  is covered by United States Utility Patent: 10,603,337
The other Patents related to the Antimicrobial Skin Cream are as follows: : US Patent # 10,238,686, issued on March 26, 2019, US Patent # 10,105,298, issued on October 23, 2018, US Patent # 9,987,305, issued on June 5, 2018, and an International Patent # WO2021/867, issued January 7, 2021.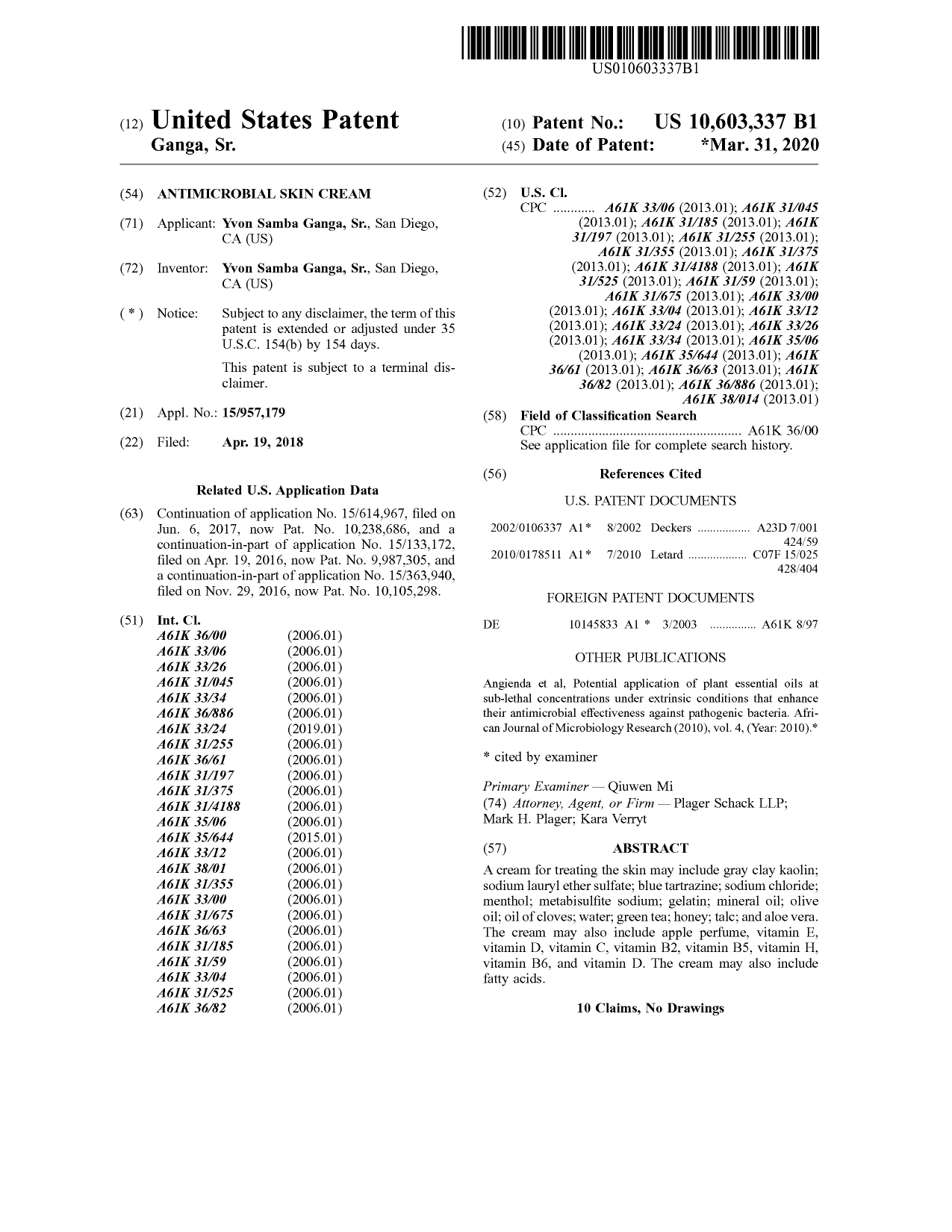 For additional information, licensing opportunities, and a full prospectus on the Antimicrobial Skin Cream  contact:
BankOnIP
VP of Business Development
Email: info@BankOnIP.com