Washer for Securing Spherical and Cylindrical Objects™
When using a traditional washer to secure items together, anything with a rounded edge will not sit flush with the washer. There is a gap, which can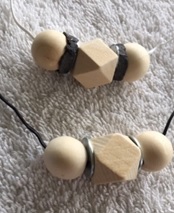 cause the object to sag and lose its rigidity.
Using a Washer for Securing Spherical and Cylindrical Objects™ can bring rounded edges together in both building and crafting, creating a solid joint that will increase the stability of the finished product.
PRODUCT FEATURES & BENEFITS
Special features
Forms to object
It can be made from hard plastic or metal
Can Fit Various Sizes
PRODUCT DETAILS
The Washer for Securing Spherical and Cylindrical Objects™ is produced using a stamp press with various molds to create the different shapes of the washers.  The more complex washers will cost more to build. Depending on the material used will also cause variations in the product cost.
The washer comes in two forms, with both a teethed and smoothed inner version. Each washer would have its own applications.
The teethed version has a washer or spacer has a central opening in its base. Several teeth or studs protrude perpendicularly or transversely from the base.
Teeth adjacent to the base's outer perimeter are longer than teeth adjacent to the central opening. In one embodiment, the teeth are aligned in rows, with the rows closer to the central opening being shorter than the rows further away.
The smoothed inner version has an elongated or squared body with a flat exterior surface, side walls, end walls, and a smooth actuate concave surface or grooved inner surface, and a central opening that extends through the washer from the flat outer surface to the smooth actuate concave inner surface, comprise the washer.
Materials needed to produce the Washer for Securing Spherical and Cylindrical Objects™:
TheWasher for Securing Spherical and Cylindrical Objects™ is covered by United States Utility Patent: 11,293,477
For additional information, licensing opportunities, and a full prospectus on the Washer for Securing Spherical and Cylindrical Objects™  contact:
BankOnIP
VP of Business Development
Email: info@BankOnIP.com