Jack Cover™
The Jack Cover™ is a plastic lid with hinges to open and close either side of the lid. The product was designed by Jimmy Jack, who saw a need for food storage solutions in his community. The lid is designed to fit over chafing dishes, food pans, serving trays, or storage containers to maintain an even temperature and prevent food from spoiling. It meets current health and safety standards to keep people safe from infection and disease. This is especially important because of Covid-19. The Jack Cover™ keeps food sanitary and clean.
PRODUCT FEATURES & BENEFITS
Special features
The Jack Cover™ is a lid with two hinges in the middle. It is clear, clean, and convenient to store. It allows people to lift part of the lid up, only exposing a portion of the food inside. This helps prevent spoilage and contamination, also acting as a sneezeguard. The lid snaps closed to prevent accidental opening. It is transparent by design so the contents inside can be viewed without opening the lid. The cover can be configured to fit different-sized dishes, allowing for complete cover.
Some of the special features of the Jack Cover™ include:
Hinges
Covers food
Clear plastic lid
No sharp edges
Allows different size configuration
Hooks to close
Will not blow away in the wind
Collapsible
Dishwasher Safe
Lightweight
Keeps food at an even temperature
Sanitary and clean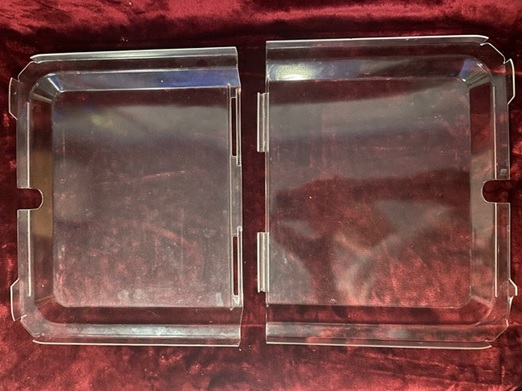 PRODUCT DETAILS
The Jack Cover™ is a clear, plastic lid that has hinges to allow opening at either end of the lid. Hinges in the middle of the lid allow this action. The lid hooks closed around the container, securing the temperature inside for proper temperature control. The Cover is made from lightweight, durable, clear plastic. The hinges are made of high-quality plastic that will be tough to break.
Materials needed to produce the Jack Cover™:
The Jack Cover™ does not need much to produce. Because of the simple design, the materials can be cheaply produced, and time to put it together is 1-2 minutes.
The Jack Cover™  is covered by United States Utility Patents:  8,925,761 and 9,132,943 
For additional information, licensing opportunities, and a full prospectus on the Jack Cover™  contact:
BankOnIP
VP of Business Development
Email: info@BankOnIP.com